"That's it? That was all that was in the game?! What a rip off!"

This article is a stub. You can help by adding more text to the article, and maybe even a link to the game's article on Wikipedia.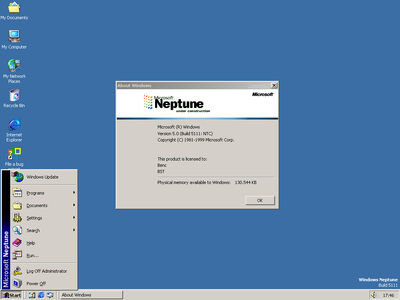 Windows Neptune (also stylized as "Windows NepTune") is a Windows NT beta that never got released. It was originally intended to replace the Windows 9x line and be the first consumer version of Windows to be built off of Windows NT.
The system was very much like Windows 2000, it also had many features that eventually become features in Windows XP , such as the login screen, firewall, and Activity Center. In the roadmap to development for Windows Neptune according to documents, Windows Neptune were going to have 5 service packs and a successor known as Triton.